I have made quite some versions of (banana) muffins over the last years, all with different ingredients and different proportions. I recently found the perfect recipe to create the best soft, fluffy, flavorful banana muffins. They might not be the best looking, because the whole wheat flour and the oats make them a bit heavy to rise well, but don't judge a book by its cover; they're absolutely delicious! And they are easy peasy to make, which is always a plus. Another pro: these muffins are sugar free, containing only the natural sugars from the bananas.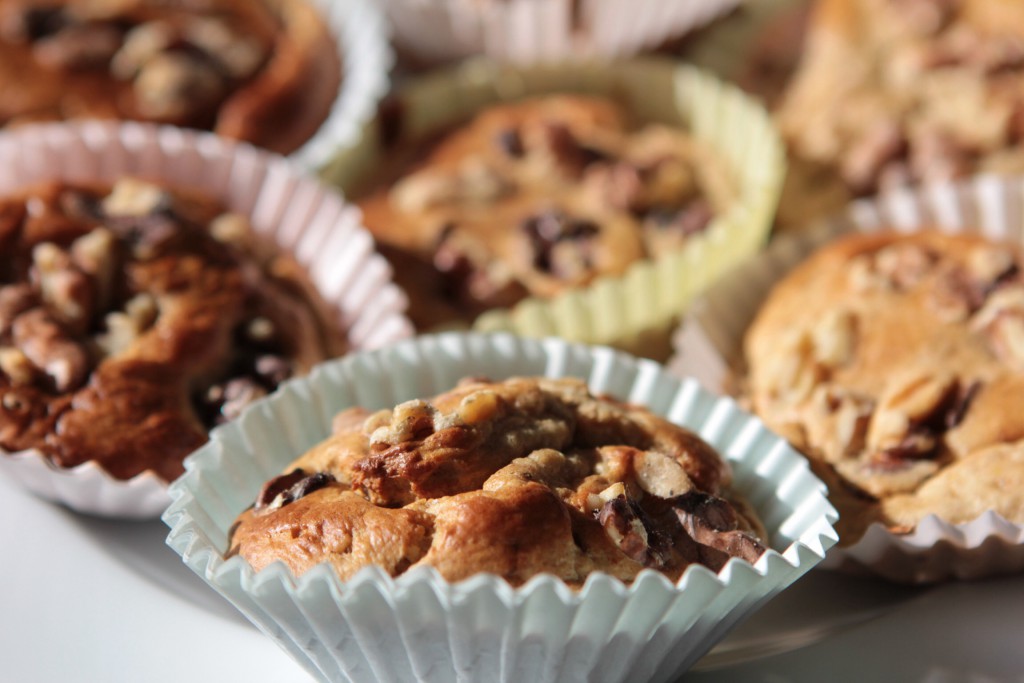 OK, here we go!
For 12 muffins you will need:
 2 very ripe bananas
1/2 cup (40 grams) of raw oats
1/2 cup (65 grams) of whole wheat flour
1/2 cup (120 ml) of milk (i used oat milk)
1 tablespoon of flax seeds
2 tablespoons of neutral tasting vegetable oil (sunflower or canola works fine)
2 eggs
1 1/2 teaspoons of baking powder
a good pinch of salt
1/2 teaspoon of cinnamon
the seeds from 1 vanilla bean (scrape them out) or 2 teaspoons of vanilla extract
a big handful of chopped walnuts
Mix all the ingredients, except for the walnuts, together in a blender or food processor until the mixture is homogeneous. Then add the chopped walnuts, and mix them in with a fork.
Now your muffin/cupcake forms are ready to be filled with the mixture, make sure to fill them up only halfway since the muffins will rise a bit.
Heat up the oven to 350 degrees Fahrenheit (or 180 degrees Celcius). Bake the muffins for 20 minutes, or until golden brown.
The banana muffins are great to eat just like that, but they become even a tiny bit better when eaten with some syrup. Enjoy!