There was no way I could spend a month in NYC without trying some New York based Mexican food. While searching for a good spot I stumbled upon Hotel Tortuga. This is a restaurant not only serving traditional Mexican food, but also offering vegetarian and vegan options!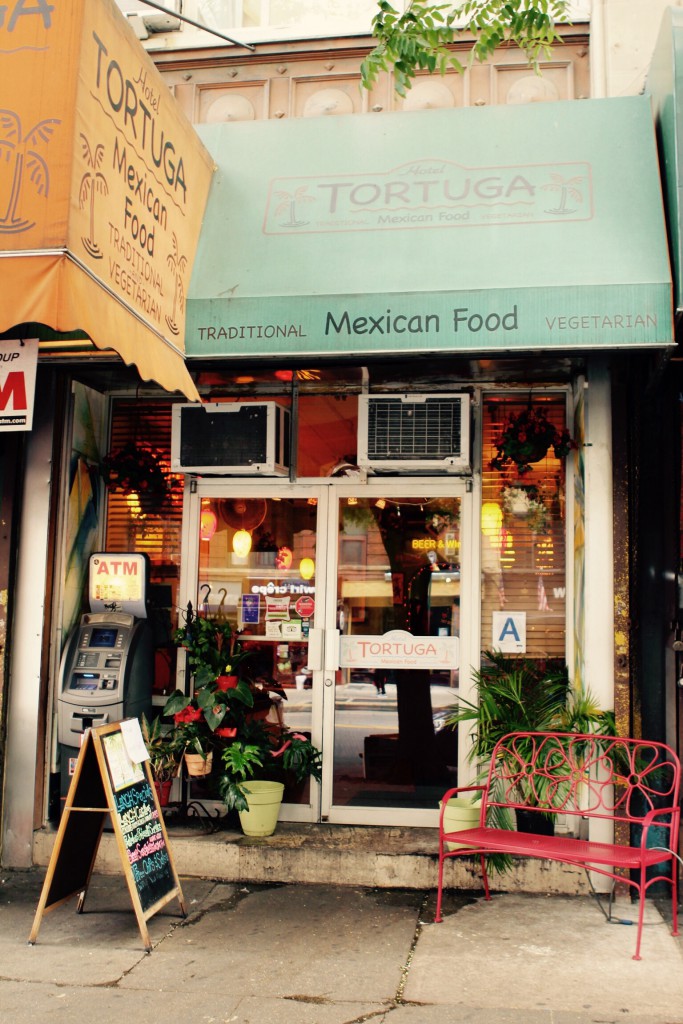 The vibe in Hotel Tortuga is very laid back. It's a small place with only a few diner-style tables. On the side there is a cool nacho bar where you can self-serve nachos with home made salsa. The staff working at Hotel Tortuga is the friendliest I've seen in New York. And, not unimportant: the prices at this place are unbeatable for a Manhattan restaurant. Burrito's start at 7,25$, taco's at 2,75$ and quesadillas at 7,50$.
We came here for dinner and went 'all out'. Grilled tilapia quesadilla, vegetarian burrito, large side of guacamole, an amazing margarita cocktail and a beer. The final bill was only 40$! Portions (and drinks!) are huge here, I could barely finish half (luckily they have doggy bags!). But most importantly: the food is so good! I especially loved the quesadillas.
We loved the place so much that we came back here for lunch another day. They do a pretty good lunch deal; for 7,95$ you get to choose two dishes from the lunch menu. Also included are a free soda and nachos with salsa. The chili we got served was great and the huevos rancheros (eggs with vegetables on a tortilla) well prepared. Some dishes were a bit too spicy for our 1,5 year old, so ask to go easy on the peppers if you're not into that. I personally love it hot 'n spicy, and would recommend this place to anyone visiting NYC, looking for a budget friendly restaurant.