Having the real New York food experience and staying under 5 dollars: yes it's possible! In all honesty, they might not be the healthiest options, so if you want to get your vegetable kick, I'd suggest visiting a farmers market and getting some deliciously fresh vegetables for a nice salad. But you can't really leave NYC before having some real NYC 'fast' food. Visited by both locals and tourists, these are the five cheap food spots you can't miss!

Joe's Pizza
This is pizza how pizza is supposed to be. Thin crust, tomato sauce and cheese, all baked in a traditional pizza oven. The right proportions of toppings make this pizza slice not too heavy or greasy, but full of flavor. For 2.75$ you have a big slice of 'plain' pizza (just tomatoes and cheese) but for 75 cents extra you have the choice of a more elaborate pizza (with fresh mozzarella, meat and/or vegetables). I would just go for the plain one. This place is famous in NYC, and judged upon their photo wall, very popular with celebrities as well. And that for such a simple little pizzeria!
Find Joe's pizza at 7 Carmine street
Absolute bagels
Bagels are big in New York. You have hundreds of places to get them, but one of the places you can't really go wrong is Absolute Bagels, located in the upper West side. If you keep the bagels simple you can get them for as low as 2.50$ (bagel with creamcheese), but the more exclusive ingredients you add, the more they will cost. I had the whole wheat bagel with plain cream cheese. Fresh bagel, loads of cream cheese: this is the good stuff!
Absolute Bagels can be found at 2788 Broadway, NYC

Food stands
You'll see them everywhere on the streets: food stands with the colorful pictures on them with exotic foods, and usually some Arabic music playing inside. The stand might not always look too appealing, but when we tried it we were pleasantly surprised! The choices usually involve falafel, rice dishes, kebab and steak sandwiches (I loved the lamb kebab pita). These portions will even satisfy a big eater and works fine for dinner as well. Most meals are between 4-5 dollars.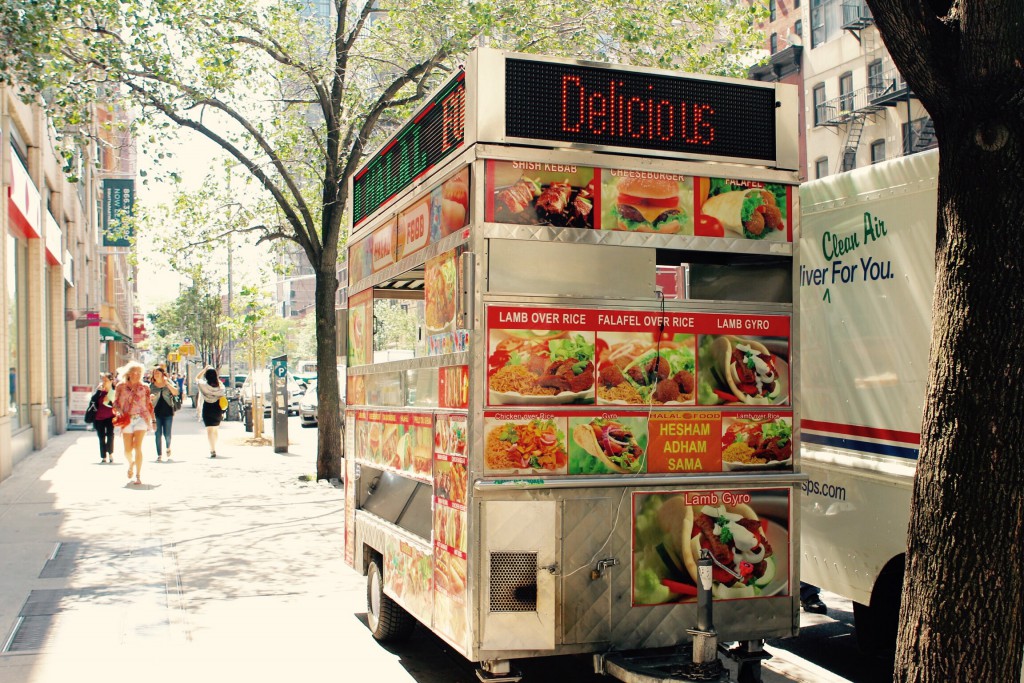 Then there are all the food trucks that pop up once in a while, mostly in summer, serving artisanal foods. The 'Dumbo' area (Down Under The Manhattan Bridge Overpass) in Brooklyn is full of these trucks. We found a truck that served savory pies just under 5 dollars!
Also don't forget to try a real New York Pretzle, sold at about every street corner in Manhattan!
Oatmeal at Oatmeals
Probably the healthiest one out of the bunch. I wrote about this place earlier, and it fits right into this budget top 5. If you take a small portion (which is enough for a small to medium eater) you'll stay under the 5 dollars. For lunch I would recommend trying their savory choices. How many places on earth can you get a portion of oatmeal covered with goat cheese, bacon, dates and sliced almonds? This is your chance!
Oatmeals:120 W 3rd street
Burger at Shake Shack
You can find about any kind of burger in NYC, but which burger is good ánd stays under the 5 dollars? I did some research, and decided to try out the Shake Shack; a place that started out as a little stand by Madison Square Park, and became so popular that is has now four locations all over Manhattan. Beware of the huge lines at lunch time, but just as so many good things in NYC you gotta go where the crowd is. There is actually a 'Shack cam' filming the waiting line live, so before you head out there you can  check the line out on their website. I can tell you, this 4,20$ burger is totally worth standing in line for.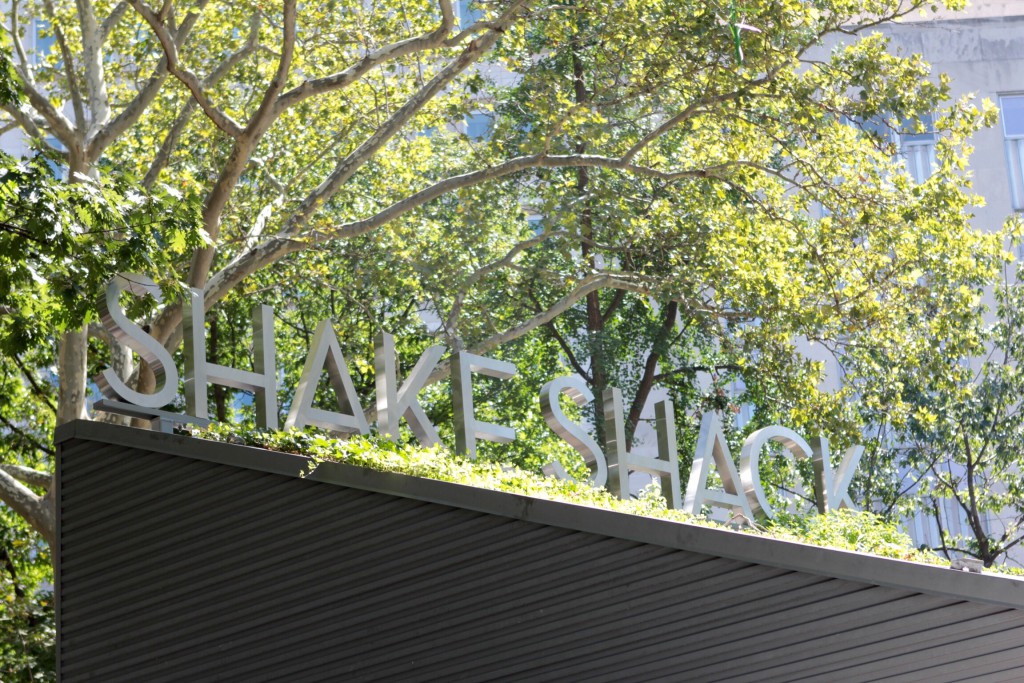 The original location of the Shake Shack can be found in Madison Square Park