Seattle is not only known for Microsoft, Boeing and Nirvana, there's another famous company that originates from here: Starbucks! The first Starbucks ever was founded in Seattle in 1971, and was a small coffee place that did not even sell ready-to-drink coffee, but just coffee beans. A few years after opening they moved to Pike Place Market in downtown Seattle, which is still open to this day. I visited this location of Starbucks, and as cool as it is to see where this biggest coffee house company of the world started, I didn't feel like standing in line for hours just to get a drink (these were some serious lines). Instead, we headed over to the much bigger Starbucks Reserve Roastery & Tasting Room on Capitol Hill.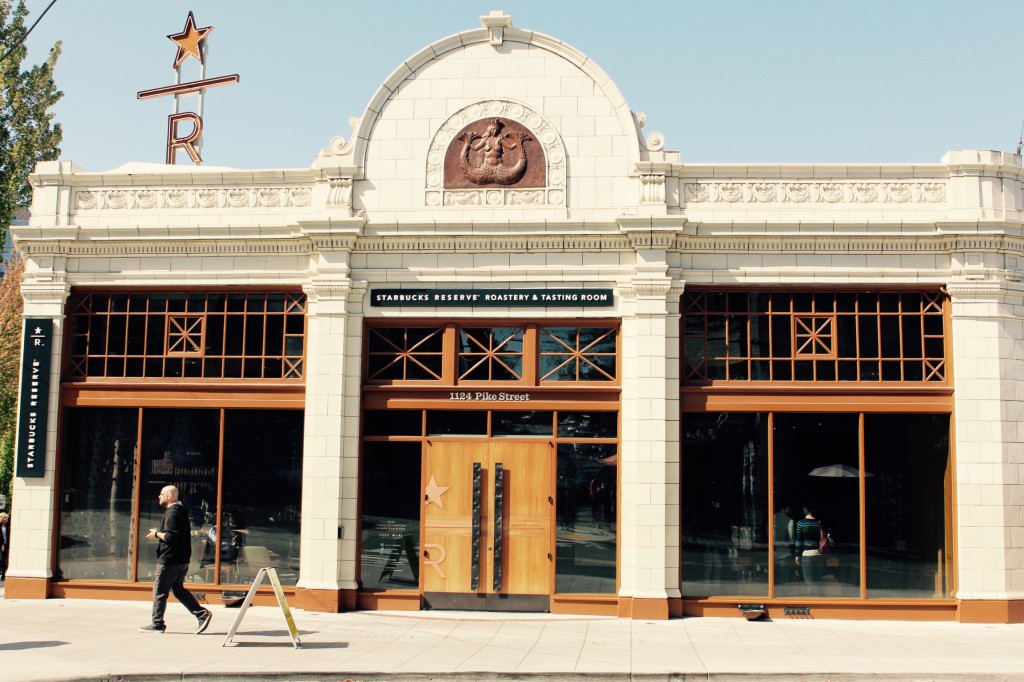 This is not an ordinary Starbucks, and from the inside you wouldn't even think that you're in one. The enormous space shows large storage silos full of coffee beans, and you can see the whole process of the roasting of the coffee beans from start to end. There are a few different coffee bars within the shop, with specialized baristas that can tell you everything about the best way to make a latte or about the origins of the coffee beans.
So, the most important part; how was the coffee? After paying a price of 12$ (!) for a small coffee and a small cappuccino, we received a beautiful tray with stylish black, matte cups. Here you don't find yourself at an ordinary Starbucks, and it shows in the luxurious way you receive your coffee. The only thing I was quite confused about: for 12 dollars, couldn't they have given one cookie per person, instead of one cookie to share?
For the coffee we chose the Hawaian Ka'u beans (medium roast, tropical coconut with sweet caramelly and citrus notes), and the cappuccino was made using Brazil Santa Ines beans (layered flavors of milk chocolate and plantain with praline sweetness). Totally stole those descriptions between brackets from Starbucks, because all I know as a coffee amateur is that is was super good coffee, full of flavor without being too acidic or too bitter.
If you want a real special experience, you should head over to the Experience Bar downstairs, where the baristas will make you a special cup of coffee with brewing methods that you (or at least I) have never heard of, like Chemex or sephon. Too bad that we found this out only after we had our 'ordinary' coffee upstairs.
The atmosphere in this biggest Starbucks in the world is great; there is plenty of natural light coming through the big windows, and the roastery inside gives it such a nice authentic vibe. Although this place is very popular and always crowded, we could easily find a sofa to devour our hot drinks in all tranquility. Don't forget to check out the store as well, we almost bought the beautiful black Starbucks mugs, until we realized we still had a few planes to take and our luggage was already maxed out in maximum weight.
Starbucks Reserve Roastery & Tasting Room can be found on 1124 Pike Street, Seattle