That there's a link between Vancouver and Japan is a sure thing, proven by the prevalence of Japanese gardens, Japanese monuments, 37.000 Japanese Cherry trees (of which the original 500 where gifted by the mayors of Kobe and Osaka in the early 1930s) and several Japanese festivals held throughout the year.
In terms of food, you will find all kinds of Japanese restaurants, from simple to high-end. There is even a Sake brewery on Granville Island. With a sushi place on every street corner, it's almost easier to grab a bowl of sashimi than to get a latte at Starbucks.
Marulilu Café
This is probably the most authentic Japanese restaurant I have been. Surrounded by mostly Japanese guests (that must say something, right?) and being served by people speaking Japanese to each other makes the eating experience more fun, and makes the food taste even better.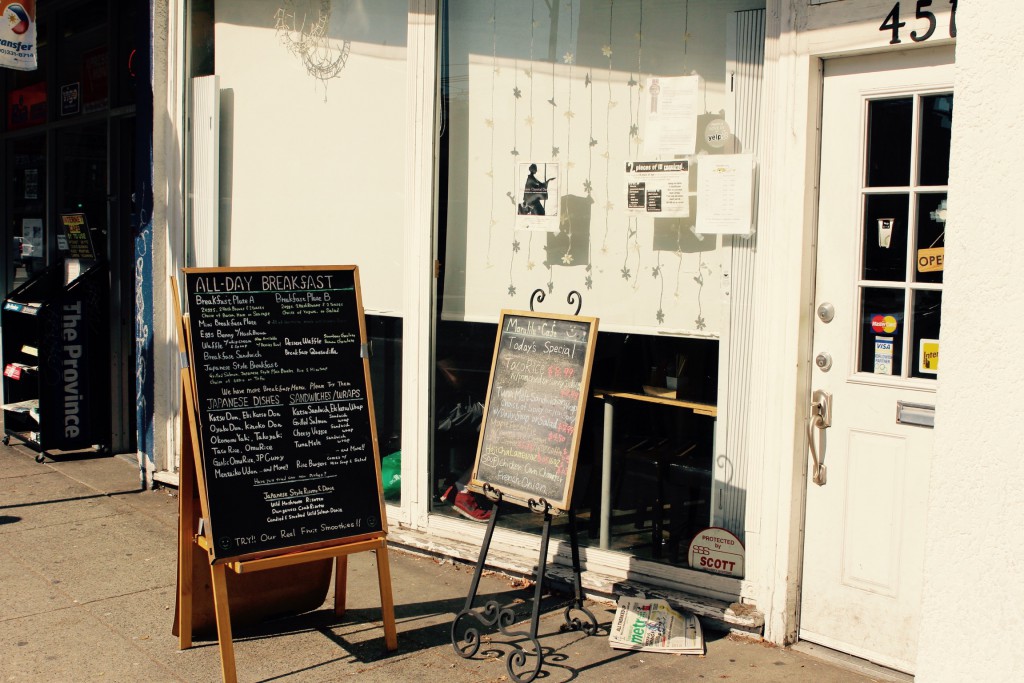 Although the menu offers some non-Japanese food options like omelettes, eggs benedict and waffles, there are many Japanese dishes to choose from as well. The Japanese breakfast (8 CAD, or €5,40) is a very popular one, which features a piece of salmon, an omelette, some rice, miso soup and a choice of tofu or natto (fermented soybeans). The omelette and salmon are baked to perfection, the miso soup is fine, and the rice is just rice. The natto, that I eagerly wanted to try, is something special. I'm all about having a hearty breakfast and I can eat about anything, but this was a bit too heavy for me. It tastes exactly how 'fermented soybeans' sounds, and the weird little slimy threads go everywhere. I was wondering why they serve the natto in a closed little container, but my questions were answered as soon as I opened it, revealing the strongest french-cheese-ish smell. Let's say that going for the natto is a good choice if you're feeling adventurous, but if you don't want to risk anything, I would go for the tofu ;)
The other dish we tried was the mushroom risotto with Japanese mushrooms (11CAD, or €7,40). This risotto was perfectly creamy and super tasty. It was served with a small fresh salad.
The athmosphere in this tiny Japanese place is very homey; there is only a few tables and the simple food is served without any frills. The giggly staff is very kind and helpful.
Oh, don't forget to order a pot of tea, and get it served in these cute little cups. Kawaii!
Marulilu café, 451 W Broadway, Vancouver.
Ramen Jinya
This ramen place requires writing your name on the guest list in front, and then hoping that the wait is not too long. Changes are high the wait isn't too long (it took us only five minutes). However, during lunch and dinner time, this place is packed.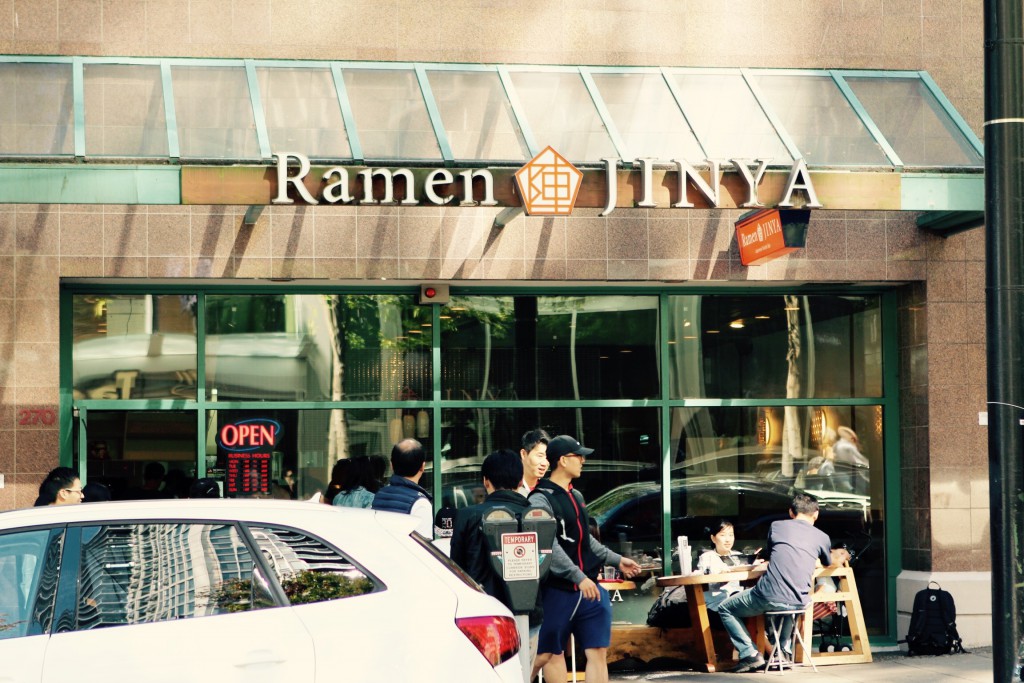 We had the vegetable soup ramen (which is also the only vegetarian option from 10 different ramen bases), with tofu, egg and seaweed. The bowl and the spoon are Japanese style, and of course chop sticks are served as well. I was just missing the slurping (which I was told is the right way to eat ramen in Japan).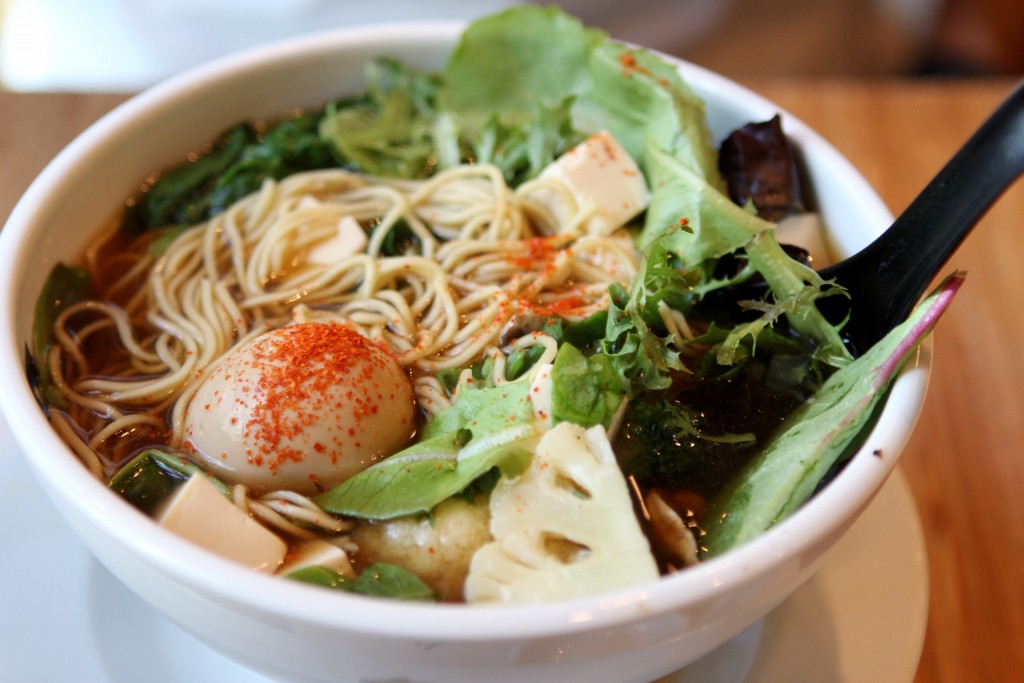 I like how the soup can be custom made, and there is over 20 toppings to choose from. The ramen was good and the portion was huge, but it could have been a bit more flavorful. Choosing a different broth base might have spiced things up a little, like the famous black ramen, that is supposed to have an intense garlic flavor (due to the black garlic oil).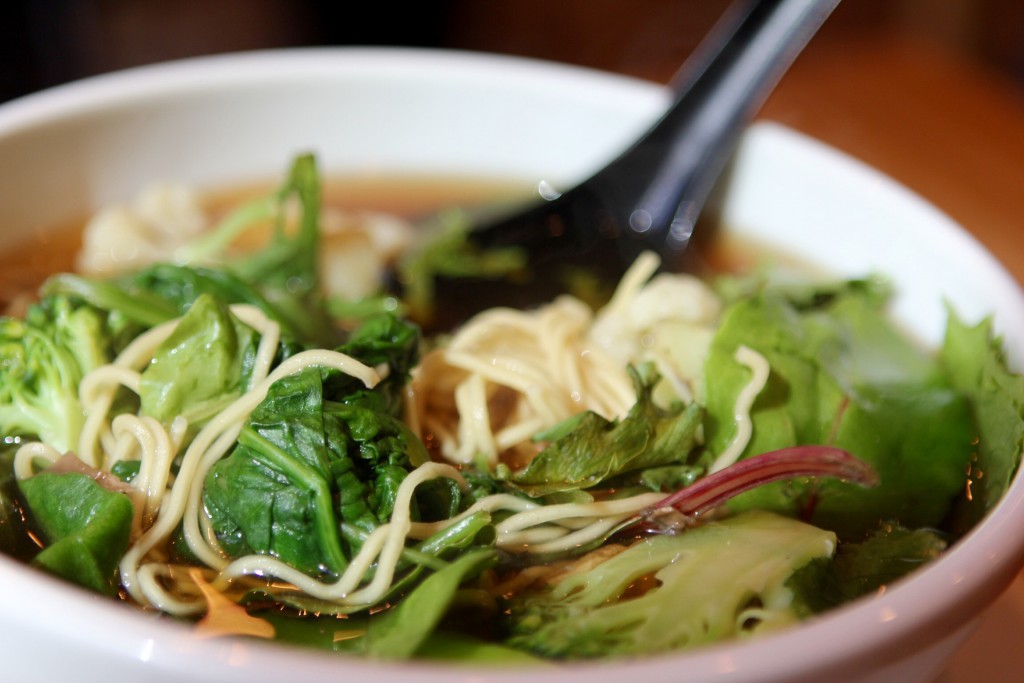 The seating is very pleasant, in a modern setting with wooden tables and a view on the kitchen.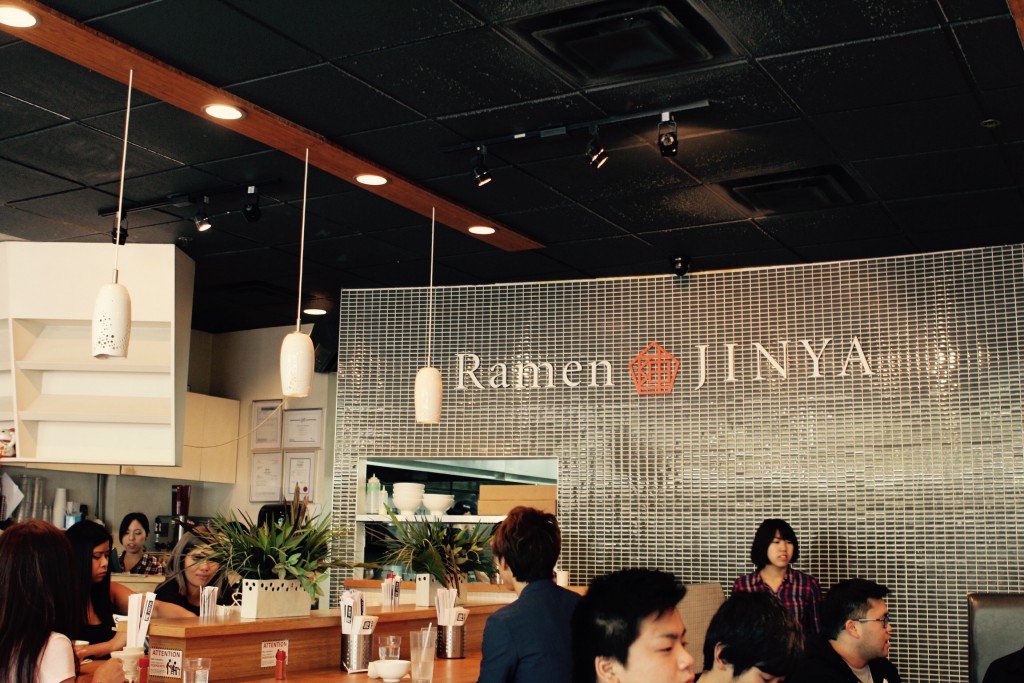 A bowl of ramen will be between 10 CAD (€6,40) and 14 CAD (€9,40), depending on the broth and toppings chosen.
Jinya Ramen, 270 Robson Street, Vancouver