The city of Montreal is a city to my taste; the spaciousness reminds me of New York City (just a little less intense and the skyscrapers are not as high), but there is some kind of European feel to it as well, especially in the old part of Montreal; the Catholic cathedrals, the cobble stone roads… The French speaking people everywhere of course reinforce this feeling!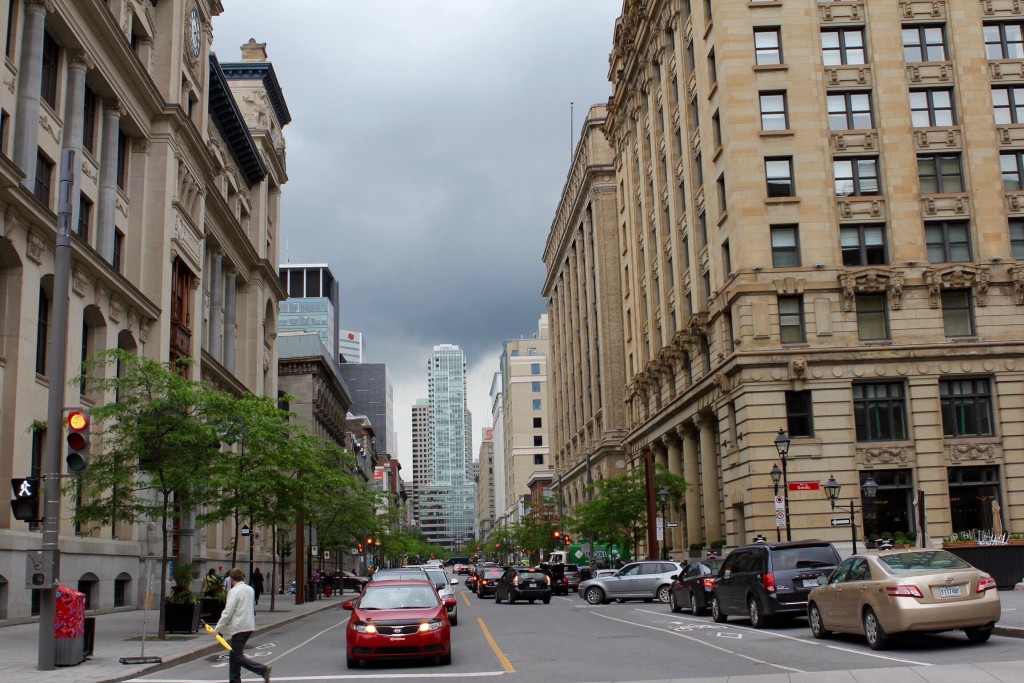 The thing that stroke me while walking through the city is that it smelled so nice everywhere we were. I kept looking around, expecting some blooming trees, or other kinds of flowers, but could not find the source. Later on I was told that this smell is a typical dryer smell; people use specific dryer-sheets (fabric softener) with a floral smell, and the ventilation hoses all end up on the streets. This makes all the streets of Montreal bathe in a clean, flowery scent; not so bad if you ask me!
What I specifically enjoyed was climbing up the Mont Royal, which is a little forrest/park that takes you up to a beautiful viewing point over Montreal. Just a note to myself: don't bring a stroller next time, as there are many stairs you have to climb up to get to the top!
I've heard that Montreal has the most restaurants of all North-American cities, after NYC. That means it must not be that hard to find a good place to have breakfast, lunch or dinner, and indeed It was quite easy to find some great food-spots. I was very impressed with the food we had during our stay, I'll talk you through three of my favorites!
Lunch Insolite
This place is very well hidden. Look for the Canada Cement Company, enter the building and you'll find it right at your left side. It's tiny, so there is no space for sitting down at a table. We had great weather, so we just took our food outside and ate it right at the park in front of it. We had some trouble with getting the right food (but a sandwich with 'chèvre et pomme' sounds indeed a bit like 'chèvre et porc'), and had to wait quite some time to get our food, but the nice waitress made up for it by giving us a free (delicious!) brownie. And I have to say that the food was definitely worth the wait; I've never had such a good falafel roll (whole grain wrap, plenty of fresh vegetables and some feta cheese). We paid 18 CAD (13 euros), which is not super cheap, but still a very reasonable price for a falafel and a sandwich.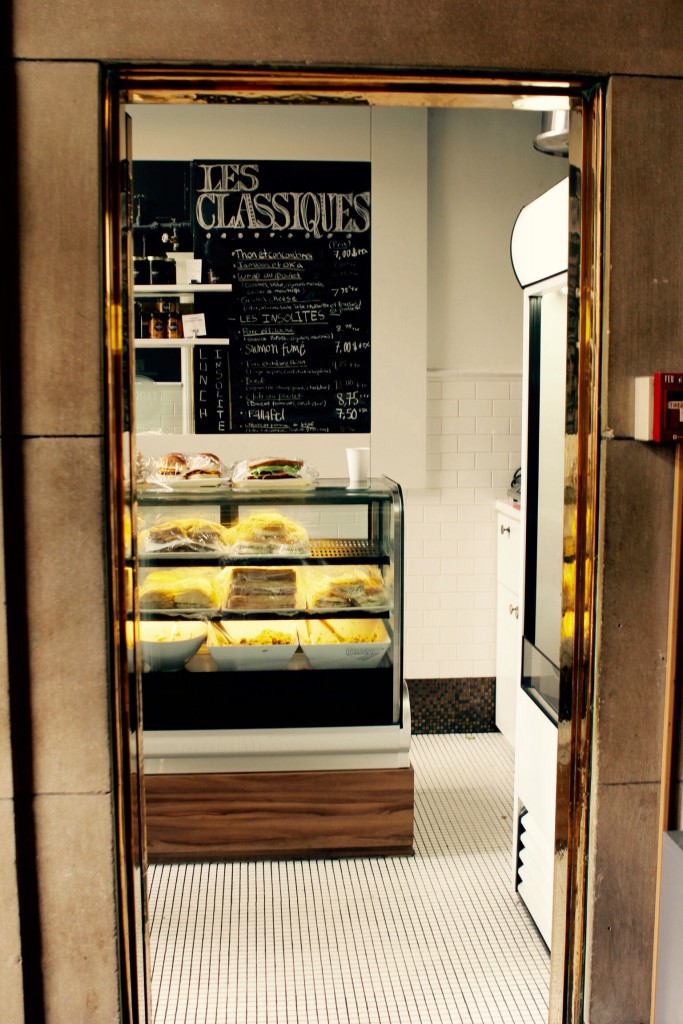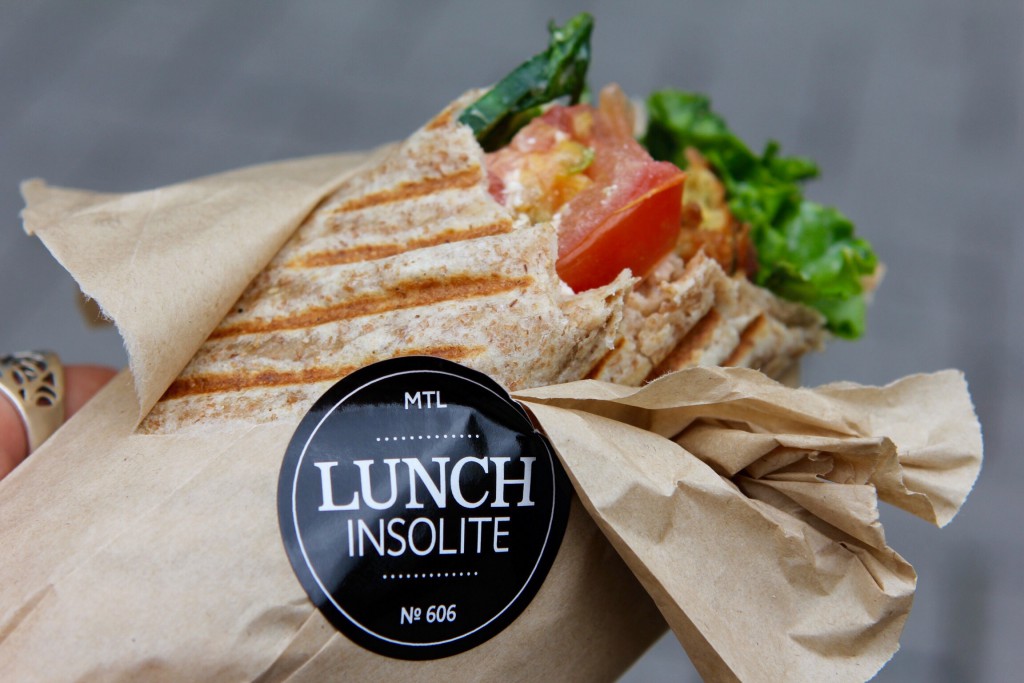 The Humble Lion
What a great coffee place! It's quite a popular place, so it's not always easy to find a spot, but you can always bring your drinks to go (as we did). The staff is super friendly. They gave us a (free) cup of milk for Lucie, which Lucie got very excited about. The filter coffee is quite watery and acidic (then again, filter coffee in North America is not a recommendation anyway), but my cappuccino was so good! They have have a choice of different kinds of non-dairy milk, and don't charge extra for it. The pastries they sell looked amazing, but I could resist the temptation this time. For a medium cappuccino and a big filter coffee we paid 6,75 CAD (4,90 euros).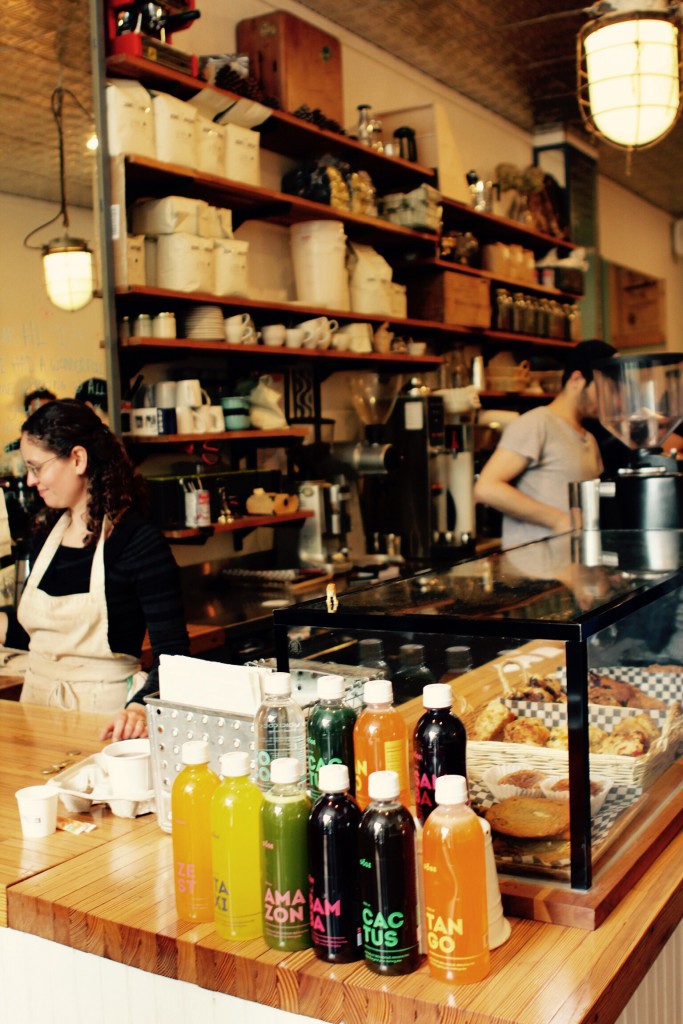 Le Bistro du Magazin General du Vieux Montreal
In the old part of Montreal you can find this cute little shop (magazin general) which has a bistro built inside. Almost everything on the menu is home made.
The minus points: no baby-chairs available and no children's menu. We ended up ordering mac & cheese for Lucie, which she was very happy about. Jp and I ordered the pizza's, which turned out to be an excellent choice; plenty of fresh ingredients and full of taste. As a dessert we shared a mouthwatering blueberry cheesecake, the best I have tasted so far!
We paid 66 CAD (47 euros) for 3 meals, 1 dessert and 2 drinks. Don't forget to tip at least 15% (servers are paid less than in Europe and therefore rely more on tips), in this case 8,70 CAD (6,30 euros).