There are some places in New York City that even if you have never visited the city, you probably heard about anyway. Many of them are bakeries and donut shops. I was excited to visit some of those famous places and try one of their signature pastries!
Magnolia Bakery
Probably the most famous one, and featured on series like 'Sex and the City' and movies like 'The devil wears Prada'. This bakery is mostly famous for its cupcakes, and is said to have started the cupcake craze in the 90's.
With somewhat high expectations I took the subway to downtown Manhattan and walked over to the bakery, where a big line of people waiting to place their orders was formed. This gave me some time to look around and pick my cupcake. The place looks adorable and is like a cliche little girls dream; lots of pink, pastels and flowers. There's a bit of a stressful vibe though; because of the huge amount of people (all tourists want to try this), the staff keeps shouting instructions (this line for the cupcakes!, that line for the payments!) and there were some people trying to sneak in between other people, which was annoying other people.
There is definitely no space to enjoy your cupcake here, your order gets carefully and stylishly packed, and you get it to go. For me the wrapping part is about the most positive thing about getting your cupcake here, because the taste of the actual cupcake was a bit of a disappointment. My red velvet cupcake was dry and just didn't have that much taste. The buttercream was good though, but it's hard to go wrong with butter and sugar mixed together ;) cupcake prices start at 3.25$, the red velvet cupcake was 3,50$.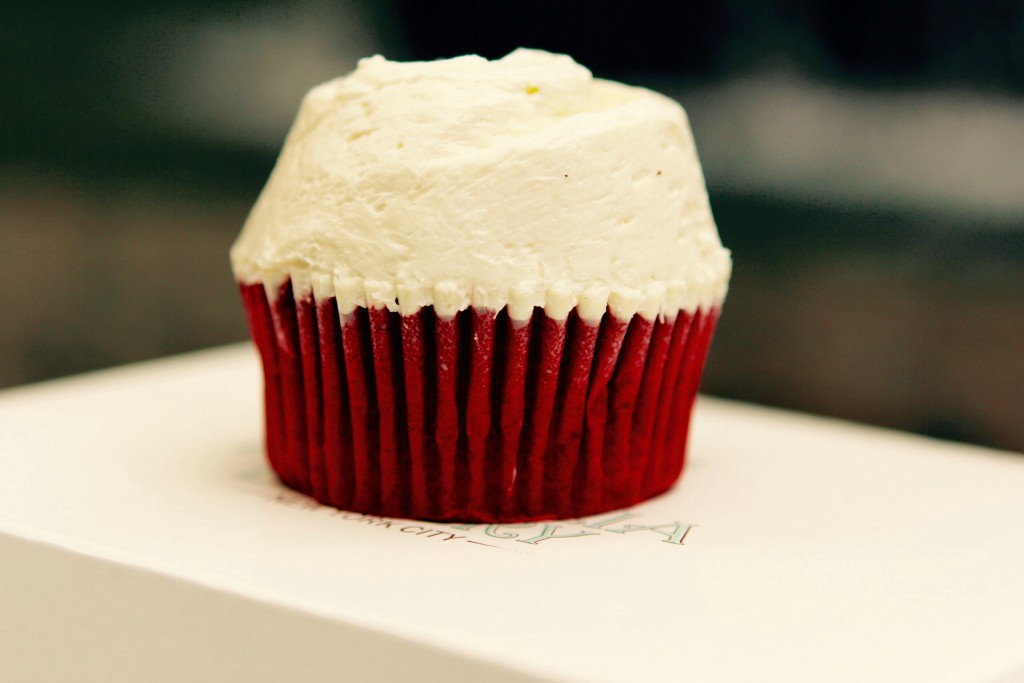 Honestly, I only tried the red velvet cupcake, so I cannot say much about the other pastries, but I wouldn't care to come back here. Keep reading on to find out what cupcake shop I would recommend you going!
Magnolia Bakery locatations: 401 Bleeker St (West Village) and in the Rockefeller center
Doughnut Plant
This donut place opened in 1994, and has since then expanded with four locations in NYC (Long Island, Brooklyn and two in Manhattan). Claimed as best doughnuts of NYC by many, there was no way I could leave New York without trying these first.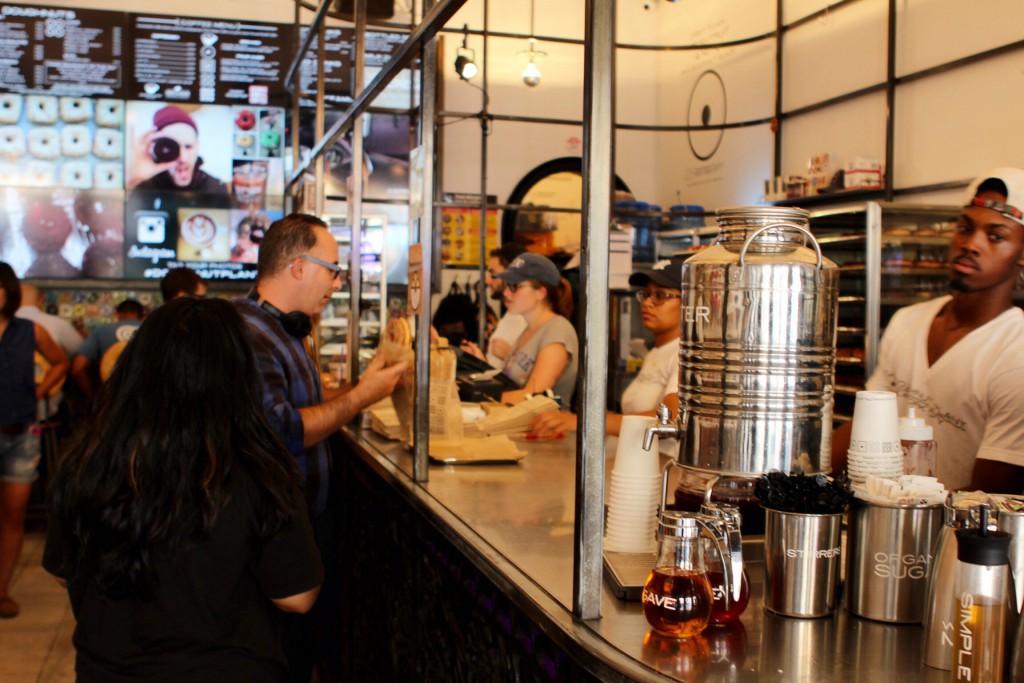 The place looks sophisticated and has some industrial touches to it. Not an ordinary bakery feel! The fact that they spell 'doughnut' and not 'donut' fits the place. The location in Chelsea that I visited had some nice sitting area.
At the Doughnut Plant you can choose the type of doughnut you want: yeast, cake or filled. Mark Israel, the founder of Doughnut Plant, is the inventor of the jelly-filled square doughnut, so if you want to get something special you could go for that one.
What I've heard is that the donut to go for is the yeast one. That's why I left the bakery with a nice yeast based vanilla bean donut in a box. Verdict? Amazing! Super light, airy and it has a non-greasy feeling, which is quite an accomplishment with a donut. If the only donuts you have tried are the Dunkin Donut or supermarkets kind of donuts, you definitely have to try this one, it's a donut on a whole different level! It might cost a bit more (3,35$ for a yeast donut), but I promise you won't regret it.
Doughnut Plant Manhattan: 220 West 23rd Street (Chelsea) and 379 Grand Street (Lower East side).
Molly's cupcakes
Oke, let's go back to cupcakes again. If you google 'best cupcakes NYC' you'll see a lot of people mentioning Molly's cupcakes.
I love the 'village bakery' feel, somehow you can imagine 'Molly' having started this bakery out of a big passion for baking (although that's not the real story). At least it hasn't become a big coorporation, it is still very low scale and personal. I asked for the most popular cupcake they had, which is the 'cake batter' cupcake: a confetti cupcake filled with cake batter and topped with vanilla buttercream. We choose to take it to go, since it was still a bit early to stress our insulin levels. Big mistake. The package didn't hold up very well, and with 34 degrees Celsius out it started melting a little. Good I took a picture before we left!
Although the conditions had been harsh on the cupcake, and it didn't look as pretty anymore, the taste seemed not to be affected by it. This cupcake is totally what I expect out of a famous cupcake. I mean, cake-batter filling?! Yum! Rich flavor, 'moist' cake and amazing buttercream. My dream-birthday cake would be made out of this, for sure!
If you are visiting NYC and in need of a cupcake, go straight to Molly's cupcakes! They have plenty of flavors, and even serve vegan ones. Just remember to eat it right away, if it's hot outside ;) Cupcakes start at 2$, the center filled cupcakes are 3$.
Molly's cupcakes, 228 Bleecker street, NYC.
The Cronut
I remember when two years ago suddenly there was 'the cronut'. Created by Dominique Ansel, a French baker who has his bakery based in NYC. The cronut is a mix between a donut and a croissant, having the shape of a donut, but the flakiness of a croissant. This was supposed to be the best pastry ever, and people were spending hours waiting in line to get one. I remember thinking those people must have been a little crazy, and what could possibly be so good about a croissant/donut merge?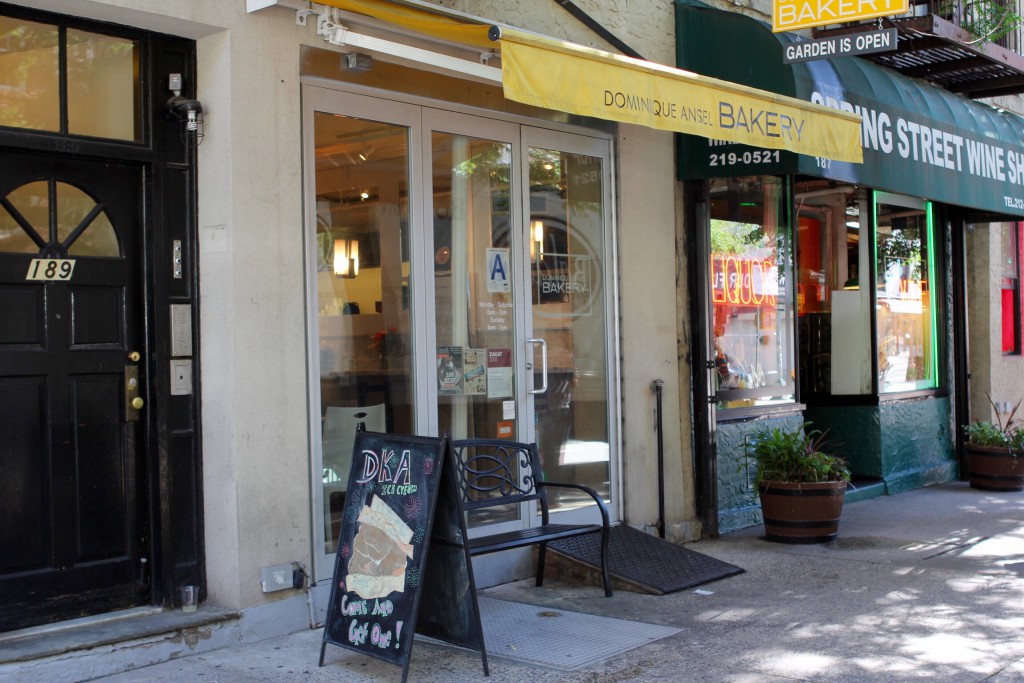 Being in New York a few years later, I started thinking about this cronut again. I tasted some supermarket-cronuts in the meanwhile, but was curious to taste the real deal. I looked up the bakery and went there on a sunny afternoon. The craze must be over by now, I thought. Boy was I wrong. The lady at the counter told me that the only way to get a cronut was to arrive preferably not later than 7 AM, and wait in line until the bakery opens at 8 AM. If I was lucky I could get my hands on one.
I was already mentally saying goodbye to the cronut, not willing to leave from Brooklyn around 6 AM just to get a pastry, if there wasn't a very kind person offering to get it for me (thank you JP!). Fun fact: there is actually people you can hire to do the line for you and get you the cronuts (no not JP, although he might be willing to depending on the pay).
So this is not by first-hand experience, but when JP arrived at the bakery at 6:45 there were already 9 people waiting in line. 1,5 hours of waiting later, with a free glass of lemonade and a mini-madeleine, the moment was there to take the cronut to its final destination: home!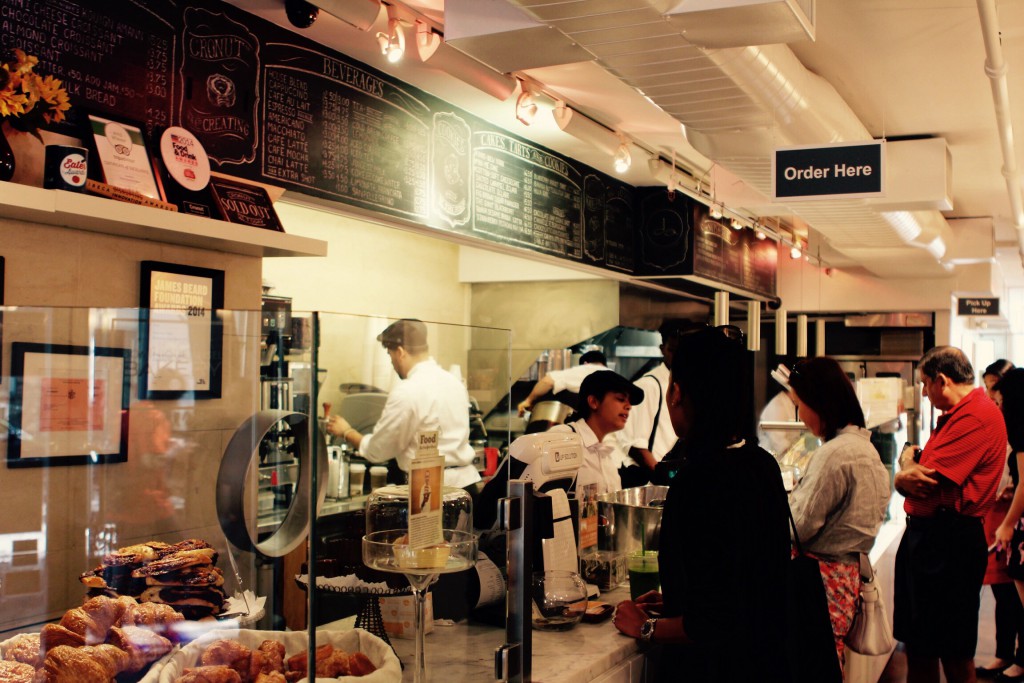 All this show around the cronut, and the 'unnatural scarcity' sets the expectations pretty high. I don't know if this works against or for the cronut. High expectations make it easy to get disappointed, but then again the feeling of luxury around it gives the whole cronut experience a golden edge (just like an expensive shampoo seems to work better than a cheap one, even if there's actually no real difference).
I was actually a bit disappointed to see that the cronut was not just a simple cronut, but filled with cream and topped with an icing. I would have liked to taste the cronut without any pimping, but apparently this is the only way to go. You can only get the cronut in one flavor, which changes every month. We were lucky to taste the cronut with a bourbon cream, peach filling (a bit compote like) with icing and lemon zest sugar.
My first impression? Wow, look at that cronut-box. How good does that look? And the cronut itself: it's like a cake, with all the fillings and toppings. The taste is quite sublime, you can taste the different dimensions in the flavors and is not just sugar and grease. The subtile bourbon taste goes well with the fruitiness of the peach. There is definitely something working well here. The cronut itself is somewhere between crispy and fluffy. But the thing I don't understand is: who would eat this for breakfast? Why is this a morning-thing? I had a few bites, enough to have a good taste, and I enjoyed it, but I was happy having JP eat most of it (after all, he did all the hard work for it). This cronut thing is a bit too heavy for me.
The cronut is 5 dollars, which is expensive for a donut but not that expensive for a unique experience ;) I would recommend skipping the place if you are only shortly visiting NYC, but if you have some extra time to spend (and don't mind getting up early) why not get in line and review the cronut for yourself?
(Confession: We're thinking of trying the September version, bergamot- Earl Grey).
Dominique Ansel's bakery can be found at 189 Spring St, NYC.