I've been on the healthy, vegan tour the last weeks (well, mostly). Being surrounded with so much overly processed foods, Mc Donalds and Tim Hortons everywhere you look, it was my mission to find somewhat healthier places to have food during our trip. Honestly, it is not always easy, but while being in Toronto I found the perfect places.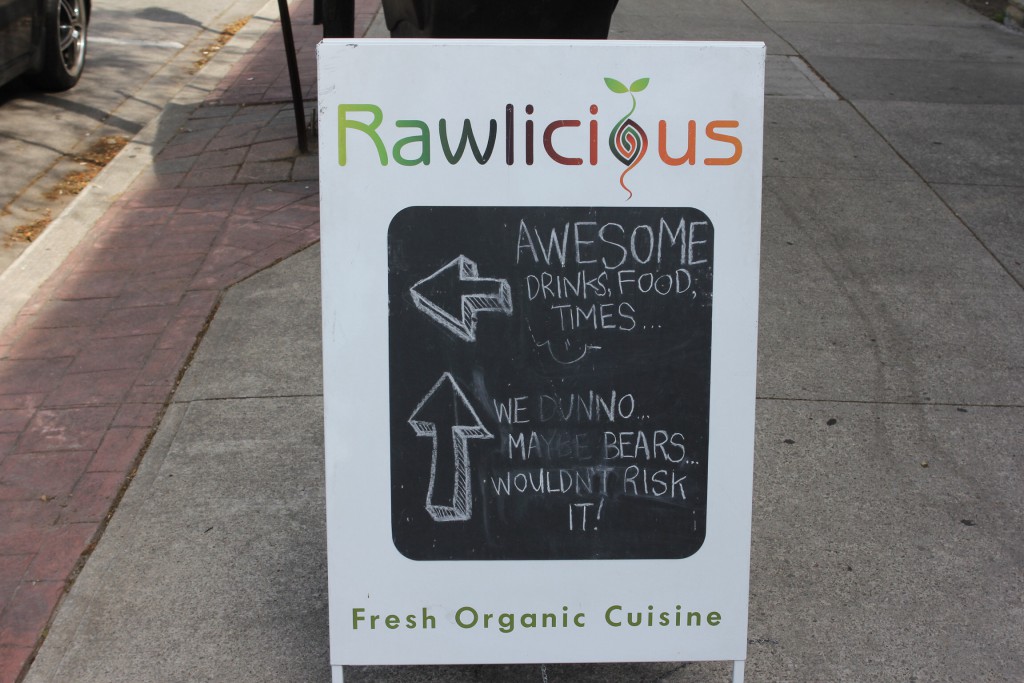 Rawlicious
Rawlicious is a food chain in and around Toronto. We visited the one in Burlington. Everything in this place is vegan, and raw! Raw as in really raw, uncooked! This place got me excited because it is quite different to what I normally eat, and because I was extremely curious to what you can cook (or in this case 'prepare' would be a better choice of words) with only vegetables, fruits, grains, beans, nuts and seeds.
Turns out; you can do a lot with just those ingredients, and it's pretty darn tasty! We went for the quesadillas and the onion bread dish. Both where served with an OK coleslaw, but the show stealers where the dishes themselves.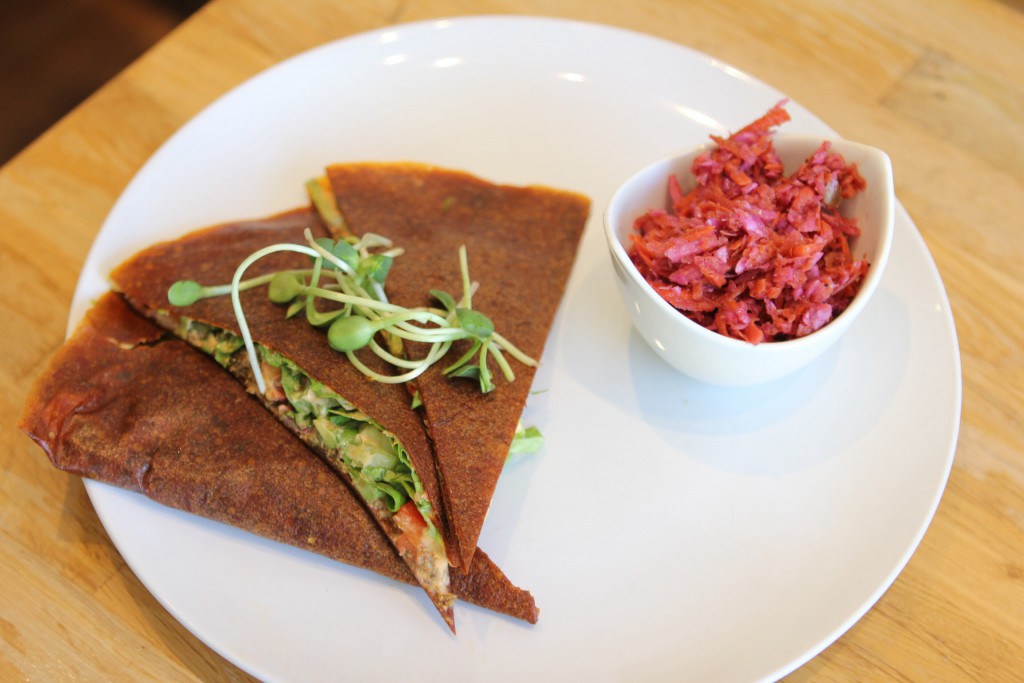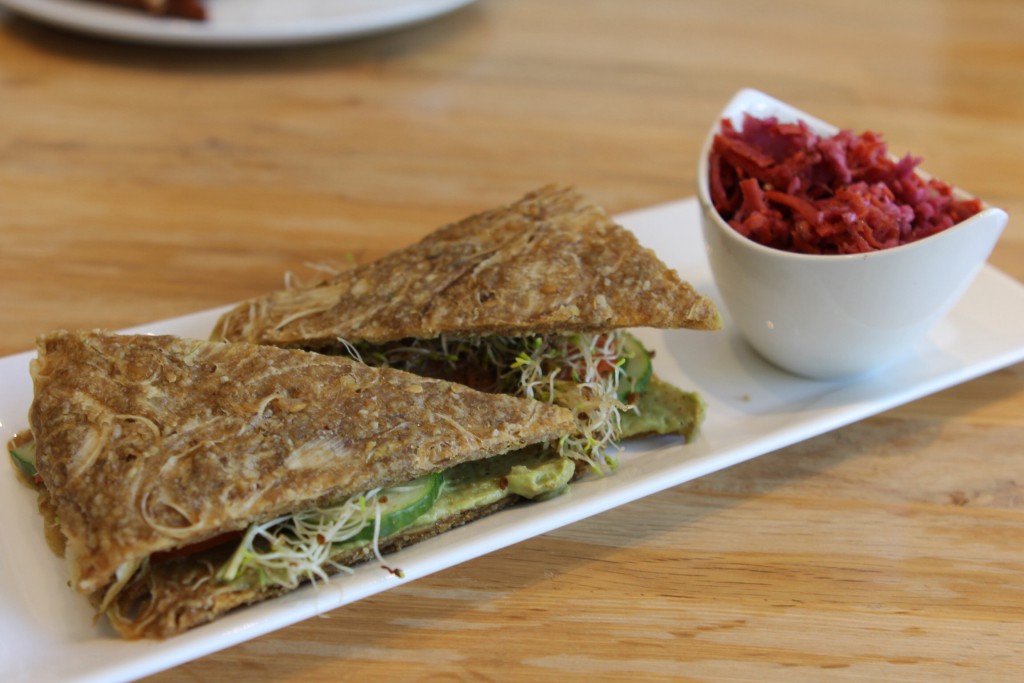 I still can not get over how amazing the food was. The quesadillas had so much flavor, and were so 'cheesy', yet the base of this cheese was not dairy but cashew nuts (how?!). The onion-bread; so crunchy, spicy, and filled with delicious guacamole, tomatoes and alfalfa. I have no idea how they make the onion-bread so bread like, but I suspect it is made using a drying method.
The cherry on the (vegan) pie was the dessert, key lime pie. I've had vegan and raw pies before, but they always had a weird aftertaste. This key lime pie just tasted like amazing key lime pie, nothing else. And again, for a vegan and raw noob like me it is unbelievable how creamy and smooth this pie was, without any form of milk or cream. The filling of this key lime pie consists of cashews, coconut and lime, the crust a mix of dates, buckwheat and almonds.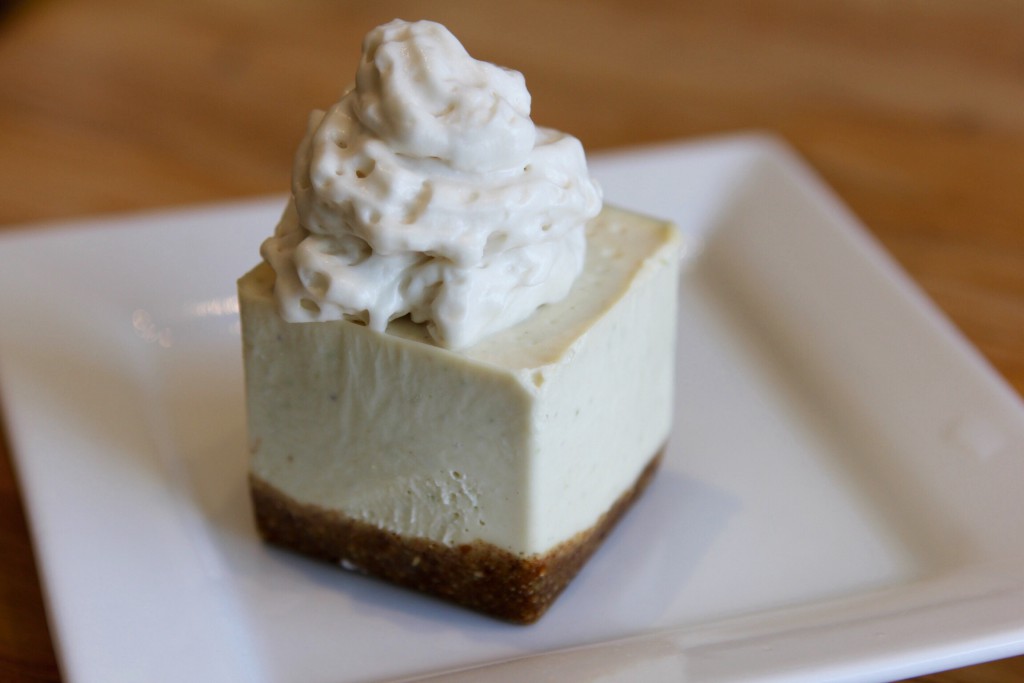 If visiting the Toronto area, it's so worth passing by Rawlicious. It's a bit on the pricy side compared to the more mainstream places, we paid 35 CAD (25 euro) for two dishes and a dessert. It's a shame there are not more Rawlicious franchises in the rest of Canada or the US, I would definitely come back every now and then!
Loving Hut
Right in the center of Toronto, when desperately looking for a place to have lunch while the rain was pouring down, we came across a vegan place called Loving Hut. In fact, Loving Hut is an international vegan food chain, and even has two restaurants in Holland (in Amsterdam and Maastricht). I however had never heard of it!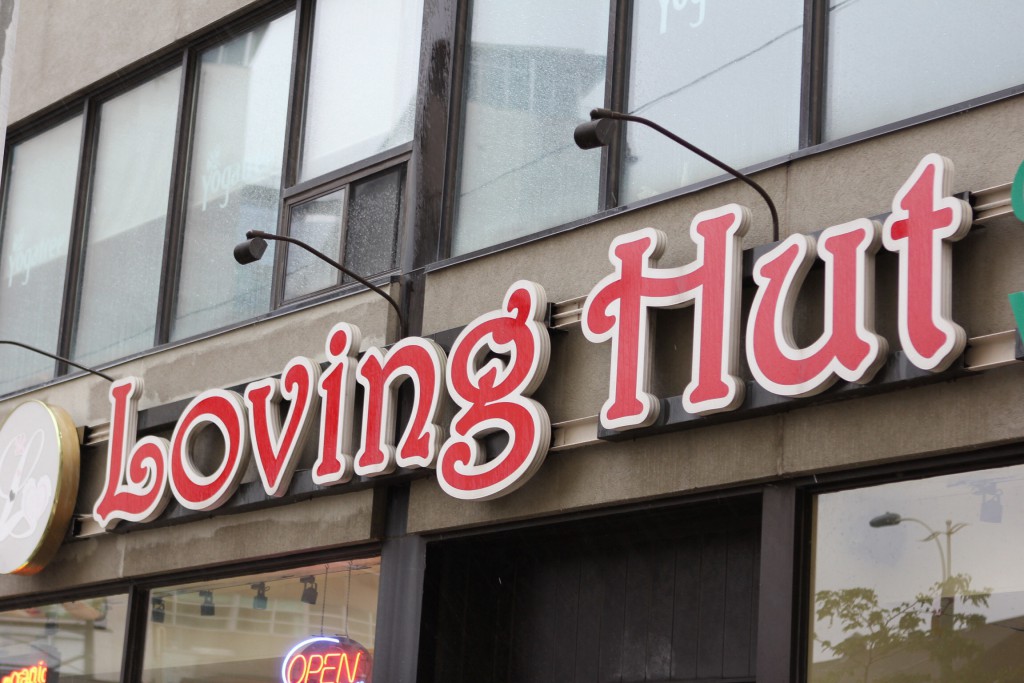 From the outside the place doesn't look all too cozy, but the inside is inviting and modern. The menu offers huge selection of vegan and nut-free options. Somehow we managed to choose dishes with almost no vegetables, which is quite ironic in a vegan place (although we could have known when we choose the burger).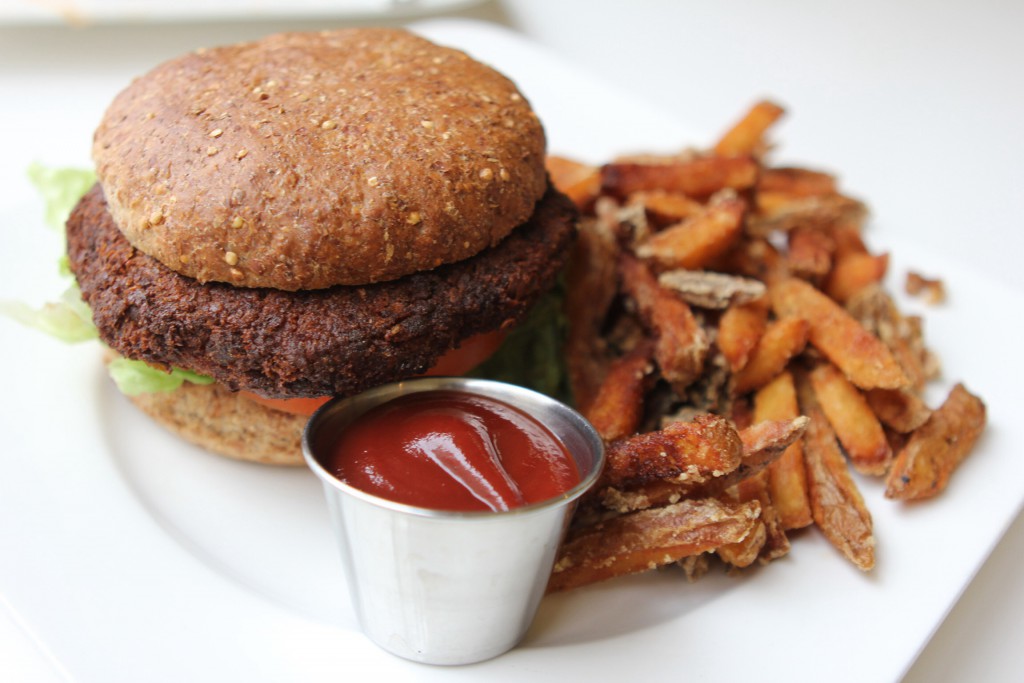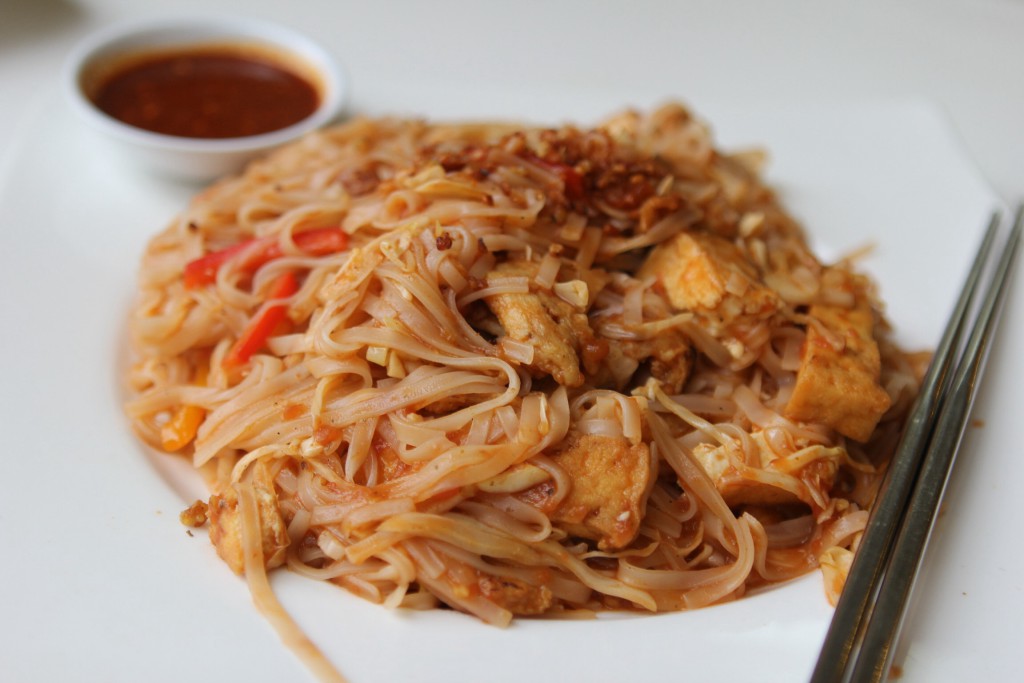 The vegan burger was great, but the bread was a bit dry. The french fries were delicious though; crunchy, golden brown and house made. The best thing we tasted here was the Pad Thai with tofu and tempeh. The sauce was flavorful, spicy (on request) and filled with fresh bell pepper, bean sprouts and onion. If visiting this place, definitely go for one of their Asian dishes!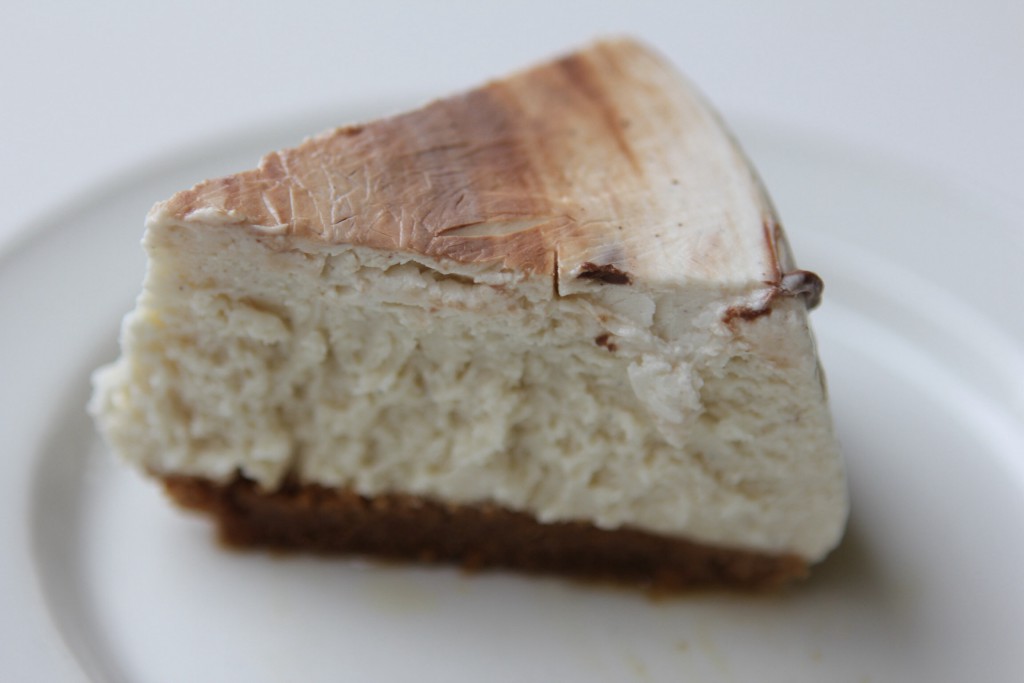 Of course we had to try a dessert as well, so we went for the cheesecake. Strong vanilla flavor and nice creamy consistency; exactly what I like in a cheesecake. There's a bit of a funny aftertaste, but it's good pie nonetheless.
The price tag: 32 CAD (23 euro) for two main dishes and a dessert.
To end this post, here are some pictures of rainy and cold Toronto